I shared this last year and we had a lot of comments cracking up at Deadspin's article. So here is 2015 with some excerpts.
Item 91-5729801 - TARTAN TABLECLOTH ($103.96-$127.96)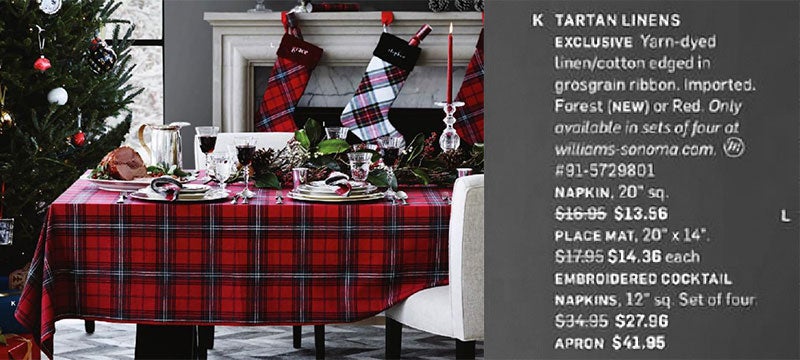 Copy: "Yarn-dyed linen/cotton edged in grosgrain ribbon. Imported. Forest (NEW!) or red"
Drew Says: Gotta have that grosgrain. Oh, is your tartan tablecloth NOT edged in the grosgrain? Then that's not proper tartan. That is wrapping paper, and you should go to hell. My REAL tartan tablecloth was hand-woven by an angry Scottish barbarian named Hamish who personally dyes his yard-dyed linen in the blood of live ewes. Accept no substitutes.
Item #91-4004149 - TRUMAN ROUND BAR CART ($999.00)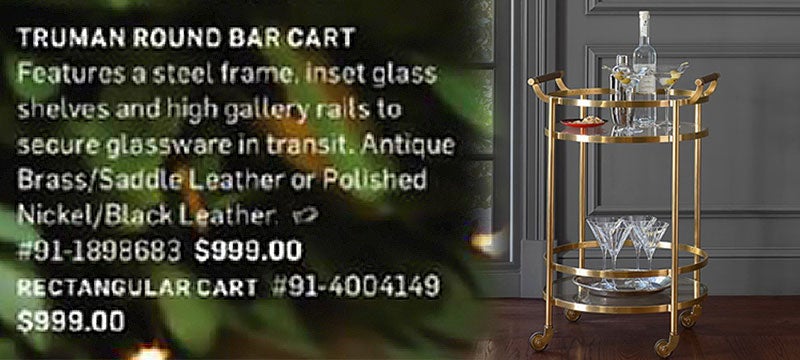 Copy: "Features a steel frame, inset glass shelves, and high gallery rails to secure glassware in transit."
Drew Says: That's a thousand bucks for a bar cart. How could I possibly need this unless I live in the coach section of an airplane? Furniture is already a gigantic ripoff, and that's for USEFUL shit like couches and chairs. Fragile glasses and whiskey bottles were not meant to be wheelable. My guests don't need that extra flourish. They're not invalids. They can make the 10-foot trip to the damn bar. GET UP AND GET YOUR OWN GIMLET, BRADLEY.
Item #91-832522 – ASSORTED GINGERBREAD MUG TOPPER ($19.95)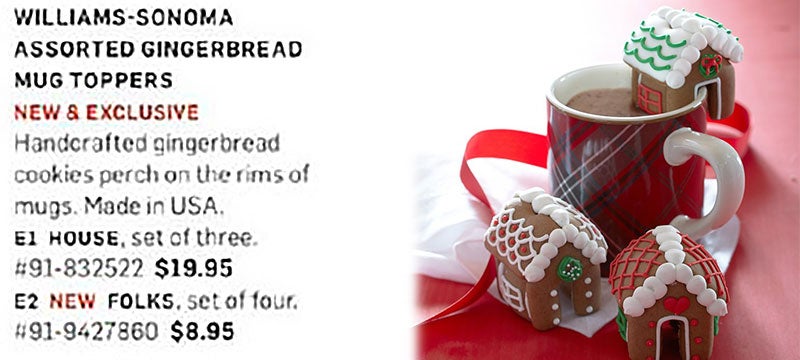 Copy: "Handcrafted gingerbread cookies perch on the rim of mugs. Set of three."
Drew Says: How am I supposed to drink my hot cocoa when there's a fucking house in the way? Like, if the point is to present the mug WITH the cookie house hanging off of it, and then you take it off to drink it, why put the cookie house there to begin with? I could go get a pound of Murray Ginger Snaps for two bucks if I want. Three of these idiot houses are $20! There's not even a fourth one for Daddy. My mug is NAKED without it.